Hey folks!
As Warlords is nearly upon us, we've taken the time as management to dust off some cobwebs from our rules and manifesto, ousted the virmin infestation from the EPGP thread, and assessed our roster for promotions and recruitment needs. See what we've done below!
Recruitment:
We are actively seeking more members to join the madhouse for Warlords, but we need your help to spread the word. You are welcome to do so in any way you see fit, but please keep it appropriate, you're representing us all! For those who need a template, the following should suffice:
Sworn is recruiting for Warlords! We are an 8 year old community that focuses on raiding in a relaxed yet focused environment. We are open for recruitment for all roles, so if you want to face challenging content with like-minded people, please visit our forums at

http://www.mg-sworn.eu

to apply, or contact us in game for more information!
A reminder to let us know what you want to play in the
"I wanna be a..." thread
if you haven't yet done so!
Rules and Manifesto:
Please re-read the threads for updates!
Manifesto
Rules
EPGP:
We will continue to use EPGP as our loot system for Warlords. Not much changes from now, however there is a minor tweak in how offspec rolls will work. Currently the loot is awarded to offspecs via random roll (assuming no mainspec interest), however with the requirement to have healers/tanks maintaining hybrid specs to a high level, the management will make decisions on a case by case basis for offspec loot.
Review the changes in the thread here.
Promotions:
As is tradition, we honour dedicated members who have stuck with us for the expansion, and I am please to announce promotions to Veteran for the following members!
Dogoun - Magnataur - Schism - Sunfyre
Please use the extra guild bank privileges appropriately!
6.0.2
With all the gameplay changes being implemented on Wednesday, we will return to some runs of SoO up to the expansion, for heirlooms and to get a grasp on the new Flex raiding style! We will be running Flex Heroic (which is replacing the current normal difficulty level), which will be open to ALL members! The guild events are up, so please let us know interest by signing up on your character of choice (alts will be initially allowed unless we run into difficulties, so those switching mains can get some early experience in!).
We will continue to use EPGP to distribute the loot, but all loot will be awarded by the random roll in EPGP rather than PR at this stage. There will be a complete reset for the next expansion.
A fond farewell
Lastly, to honour the departure of Yadard, I've captured the following image from the final official raid this expansion: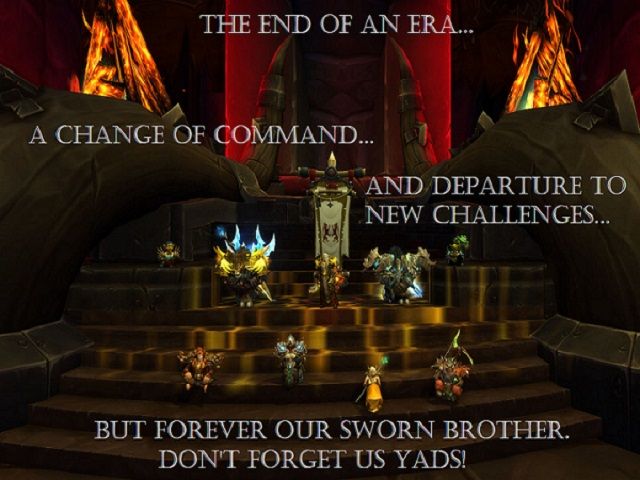 All the best with the baby Yads, don't be a stranger!
Thanatros
-For Sworn Management